Anyone working on an image in Adobe Photoshop or on a drawing in Corel Painter realizes how nice it would be to just pick up a pen and "draw" rather than trying to use a mouse. This is why graphic artists have long turned to XP-Pen pen tablets for editing digital photography and digital art.
For photographers and graphic artists who haven't already embraced the idea of a pen tablet or tablet PC, the appeal of the XP-Pen G640S is that it is a full-featured "graphics tablet." Tablet PCs offer a great deal of flexibility and a range of practical applications; leading to their popularity with artists and other creative professionals.
So recently I've purchased the XP-Pen G640S USB Pen Tablet. I've bought this nice piece of gear with the intention of being able to expand the way I use the cursor to select things on my computer. For some people, that may mean being able to draw more naturally, write digitally instead of using the keyboard, for playing OSU professionally; and/or acting as a mouse replacement for the ergonomic benefit, preventing/letting carpal tunnel to heal.
I also imagined that a graphics tablet would help me in video or photo editing. Video or photo editing can require an immense amount of time and concentration, and using a mouse in such a rigid fashion can lead to complications like strain, RSI, carpal tunnel, among other things. Whereas using a tool like a pen tablet feels more natural to use in the hand without putting strain on your wrist. And for this reason, there are many people who use a graphics tablet like the XP-Pen G640S as a total replacement to the common mouse.
The point at which I realized the true value of the tablet is simply when I started seeing how much faster I can edit faces with the pen tool. Because the tablet has a relative positioning attitude (so your tablet is mapped to your screen, and a specific point on the tablet will always be the same point on the screen) you tend to be able to move to exact locations on XP-Pen tablet surface image and edit out blemishes much faster than with a mouse. Also, changes made with a Photoshop tool that requires a natural flow along the lines of your object (like a face) is just so much easier to do well with a pen or stylus than with a mouse. I would not be over-exaggerating to say that it has cut editing time in half.
I absolutely love my XP-Pen G640S , and I'm ashamed that I didn't place a review for this superior product before now. I was helping a coworker select a XP-Pen tablet for her desk this morning when I decided to write this review for the Wacom tablet. Bottom line for the Star G640S: convenient size, excellent pressure sensitivity, durable construction, excellent value for the price. I would consider this a must-have for any serious digital illustrator or designer.it's price is $49.99 .you can get more information from https://www.xp-pen.com/goods/show/id/371.html .
What are the Specs for the XP-Pen G640S Pen Tablet?
The size is of the G640S tablet is 259mm wide by 160mm inch height . But the active area on the tablet is 6 x 3.75 inch .the Star G640S is small and light enough to pick up off the desk and work with right on your lap. With a thickness of just 9mm, it's thinner than just about any device on your desk.
I mean the tablet works very smoothly, but the small area is a tad bit hard to use. If you plan to heavily use a drawing tablet, I would suggest looking at the XP-Pen DEC0 01 tablet if it fits your budget, as the increased drawing space is more ergonomic and comfortable to use.
The G640S tablet has a reporting rate of 266RPS, and in my experience moving the cursor from one end to other on the monitor was as smooth like with any other standard mouse. The G640S pen come with 8192 levels of pressure, which is more than enough for showing the density of a drawing stroke. Just make sure that you check the "Support TabletPC" checkbox on the XP-Pen Driver if the pressure sensitivity isn't working with your Adobe Photoshop CC software.
The included grip pen is XP-Pen's standard two-button unit.the new Intuos pens are much more comfortable to hold that the old plastic pens because of the rubber coated grip. I personally found the pen to be perfectly weighted and balanced. The contoured grip area is thick enough to promote good pen holding habits and reduce fatigue.
The tip on the pen seem much more "springy" and responsive. Pen tips are removable/replaceable, and XP-Pen supplies several different tips (also called nibs).
The resolution of the pen tablet is 8192 LPI, or Line per Inch.
The new Intuos features a USB connection that permits hot-swappable, on-the-go design. the G640S also have 6 Express keys that you can assign any keyboard shortcut that you'd like.
The XP-Pen G640S is compatible with many major graphics applications including Corel Painter, CorelDraw, Adobe Photoshop, Adobe Illustrator, Adobe Fireworks, Macromedia Flash, Comic Studio, GIMP, SAI, Infinite Stratos, 3D MAX, Autodesk MAYA, Pixologic ZBrush, USB interface. Note that you can perfectly use the G640S as a mouse.
The G640S pen tablet also supports Window's Vista/7/8/10 and Mac OS 10.8.0+
What are the Pros of the XP-Pen G640S Pen Tablet?
Highly Portability
I find that the G640S tablet can be pretty useful. It's extremely portable due to its extremely small notepad-like dimensions and extremely light weight; you'll hardly notice a difference if you add the XP-Pen drawing tablet to your hand bag or backpack.
Customization & Programmable Keys
I mentioned before that there are 6 programmable keys to the side of the G640S tablet. These are great, because when you are in the middle of drawing something out, you can quickly perform a command inside the graphics program that you choose to use. There are also an additional 2 programmable buttons on the pen itself; you can either designate them as left & right mouse buttons or anything else if you wish. it is easy use by both right-handed and left-handed artists.
Along with programmable keys, there are many features that you can customize for the G640S drawing tablet. That includes the levels of pressure for the pen's tip, the active area of the tablet, which monitor to select if you have multiple displays, and more. You also have the option of matching the active area size to match your display ratio.
The significance of G640S's new ExpressKeys is that they greatly speed up workflow in graphics and other applications. The innovative ExpressKeys provide quick access to commonly used modifiers, mouse clicks, keystrokes, and other time-saving operations used by photo editors, graphic designers, and digital artists.
Pressure levels
The pressure sensitivity of the XP-Pen G640S is pretty amazing for such a cheap price. With the correct settings enabled, I found that I could smoothly ramp up the gradient of darkness & lightness depending on how hard or soft I pressed my pen against the tablet- given that the XP-Pen drawing tablet's software is properly configured. The tablet's surface was smooth enough to feel like I was using pen and paper, albeit with a tad bit more scratchy feedback than an actual graphite pencil on paper.
The pressure sensitivity is amazing and allows me the complete control over the virtual medium that I am handling (airbrush, pencil, ink, paint, etc). Photoshop, Illustrator, and Flash are all designed to work with the pressure sensitive pens, and the level of control is amazing. Photoshop's new custom brush palette, combined with the Wacom tablet, permit me to create custom brushes to simulate the appearance of color pencil, pastels, and chalk in such a realistic manner that it's difficult to discern what is real and what is digital.
Highly Responsive
With resolution and data rates (5,080 lpi, 200 pps) on par with XP-Pen's other higher-end tablets, performance was predictably smooth and precise. The G640S tracks quickly, without any noticeable lag even when rapidly moving the pen back and forth. The G640S has 1024 levels of pressure sensitivity and pressure-sensitive functions in both Photoshop and Corel Painter performed exactly as expected. I particularly enjoyed the ability to use pressure sensitivity when applying Nik Color Efex filters to images in Photoshop.
Again, I would like to add that new tools requires a bit of time to become accustom to.
What are the Cons of the XP-Pen G640S Pen Tablet?
There are a few downsides or features that could have been improved upon the XP-Pen G640S drawing tablet.
Drawing Room
First of all, I feel that the drawing area is a tad bit too small. Sure, the tablet is exceptionally usable and smooth to the pen movements. But I feel that due to the small drawing area, it takes me longer to to accurately draw what I want with precision. Maybe with enough time I would get used to the small drawing space, but if I had the budget I would go for the spacious XP-Pen DECO 02 tablet, just for ease of use.
Wired
Maybe this is just nitpicking, but I really don't want to add anymore wires to my desk. My keyboard has a wire. My mouse has a wire. My webcam has a wire. My desk lap has a wire. My microphone has a wire… I could go on. It's no surprise people like going wireless. So ignore this nitpick if you don't mind adding an extra wire to your desk. Or alternatively, you could look into a wireless solution, like the XP-Pen Wireless DECO 03 Drawing-Pad.
Requires Software Installation
The XP-Pen G640S tablet requires software installation. You can install the software by download it from their website. it opens a window with a list of drivers; you simply have to choose which tablet you have out of that list. Then the software installation begins. Again, this is nitpicking. But for people who have virtually zero computer skill, they'll need someone a little more computer adept to help them given that this tablet isn't plug & play (actually, many drawing tablets aren't, because the custom software allows for better customization- like assigning which button on the tablet & pen does what).
Operating the XP-Pen G640S Graphics Tablet as a Mouse Replacement
So there are some people out there who choose to use a drawing tablet like the XP-Pen G640S as an alternative to a mouse. The primary reason would be for better ergonomics. The way that many people hold the standard mouse is not safe for long term usage. Even I find that if I keep using a regular computer mouse for an extended period of time, I start to feel cramps and strains in my wrist- all warning signs of RSI (Repetitive Strain Injury).
Whereas with graphic drawing tablets like the G640S, they require you to hold the "mouse" in the pen hand position. This greatly reduces the amount of strain that the wrist experiences, because the rotational angle of the hand is in a more natural position.
You'll need to use the XP-Pen tablet drivers in order to configure the buttons on the pen and the express buttons on the tablet. A good configuration is to make the pen's first button a right mouse button, and the pen's second button as the middle mouse wheel button- which allows you to use the pen's second button for auto-scrolling. Note that you'll need to tap the pen twice on the tablet in order to perform a double-click.
The tablet also gives you 6 express buttons that you can are easily configurable to perform any hotkey combination like Ctrl, Alt, Shift, plus any letter, number, PF key, etc.
A good configuration option for those 6 express buttons are to save with Ctrl+S, to close an application with Alt+F4, and Home (no hotkey needed, predefined) or other functions.
Experience In Use
Most artists who use a pen tablet for awhile will tell you it's impossible to go back to a mouse after using pen-based control. I am something of an oddity among the photographers and graphic designers I know in that I "like" pen tablets but I've never really "needed" pen tablets. That is, I never needed a pen tablet until I started using the G640S
I'm not sure what it is about using the G640S with my studio desktop that makes it like a match made in heaven, but I honestly have a hard time even entertaining the idea of not using this tablet on a daily basis. The setup on my Windows 10-based desktop was a breeze. Photoshop CS6 instantly responds to the pen, mouse, and ExpressKey inputs as if they've always been there. The 259 x 160mm footprint is perfect for my desk and the battery-free wireless pen mean that I don't have to worry about cords and I don't have to worry about charging/replacing batteries.this tablet have the 6×3.75 drawing surface, which I find to be an adequate size for me to accomplish all of my design-work and illustrations. It also is a convenient size to fit into my bag .
I spend about 10 hours a day working in Photoshop, Illustrator, Flash, and other design related programs including 3D Studio Max. I've been using a XP-Pen G640S tablet for about four months now, and I love it. It would be impossible for me to create the designs and illustrations that I do without my XP-Pen G640S . As an artist and designer, I used traditional mediums for years, and then spent another couple of years trying to figure out how to use a mouse in a way that would permit me to create quality images and designs on the computer quickly and in a way that resembled traditional methods.
Design for OSU
The biggest selling point of tablets for osu! is this absolute tracking. Every other parameter such as pressure levels, tilt sensitivity, barrel rotation, etc. will have no effect on your osu! gameplay. These features are for digital art, where the tablet can sense things such as the pressure you're applying to make a darker pencil mark, for example. The only specification which may affect your osu! gameplay is LPI (lines per inch).
This is essentially the "resolution" of the tablet surface, or how little you have to move for the tablet to detect it. If a tablet has 100 LPI, then you have to move at least 1/100th of an inch for it to register movement. However, even the lowest LPI should be far higher than any monitor that you're likely to play on, so higher numbers have a mostly unnoticeable effect on gameplay.
In short, tablets are an optional device to let you play the game in a different way. They were originally intended for digital art, but happen to work very well when playing osu!. Most specifications will make no difference in osu!.
For osu!, you'll probably be looking at getting one of the "small" sized tablets because it's a common strategy to reduce play area so that you don't have to move your arm when you play. However, it's personal preference as to whether or not you want a larger tablet area, and it's especially worth considering the "large" size if you are also into digital art; drawing is much more comfortable on a larger tablet.
I'm no master of the game Osu! since I only sit at around rank 100 000, only between the 5 digit and 6 digit ranks. However, I do think that I understand what is most important when it comes to shopping for an Osu! tablet after having tried Osu! on a bunch of these tablets
For context, I play Osu! with either mouse + keyboard or tablet + keyboard, depending on my mood. I map my active area to around 2.7×1.5 inches and use the hover "style" rather than dragging.
From what I've experienced, I feel that accuracy, cursor delay, active area configurability, and hover distance are the most important aspects of an Osu! tablet.
XP-Pen Star G640S OSU Tablet :
Accuracy: Really good.
Pen Type: Plastic stick pen. Battery-free pen (no-battery/no-recharge).
Hover Distance: ~10-11mm
Without tablet drivers installed
Cursor Delay: Good. No delay.
Active Area Configurability: Unavailable without drivers.
With tablet drivers installed
Cursor Delay: Good. No noticeable cursor delay unlike XP-Pen and XP-Pen.
Active Area Configurability: Available in drivers.
So far, this is the only Osu! tablet that I've run into which doesn't have noticeable built-in cursor delay in the drivers. This is my recommendation for anyone who wants to get an Osu! tablet which they can draw on as well. It's the exact same size as the XP-Pen Star G640S, except it's good for both drawing and Osu! gameplay because it doesn't have any noticeable built-in cursor delay whether you install the drivers or not.
The biggest con is the relatively small hover distance, so it might not be the best choice for you if you tend to hover too high a lot. I had no problems with the hover distance though, but that's just me.
The reason why I recommend the XP-Pen Star G430S at the top of this post is because it uses the exact same drivers as the G640, therefore there should be no noticeable built-in cursor delay on the G430S either. However, the G430S is only recommended if you just intend to play Osu! on it because it's slightly too small for comfortable drawing.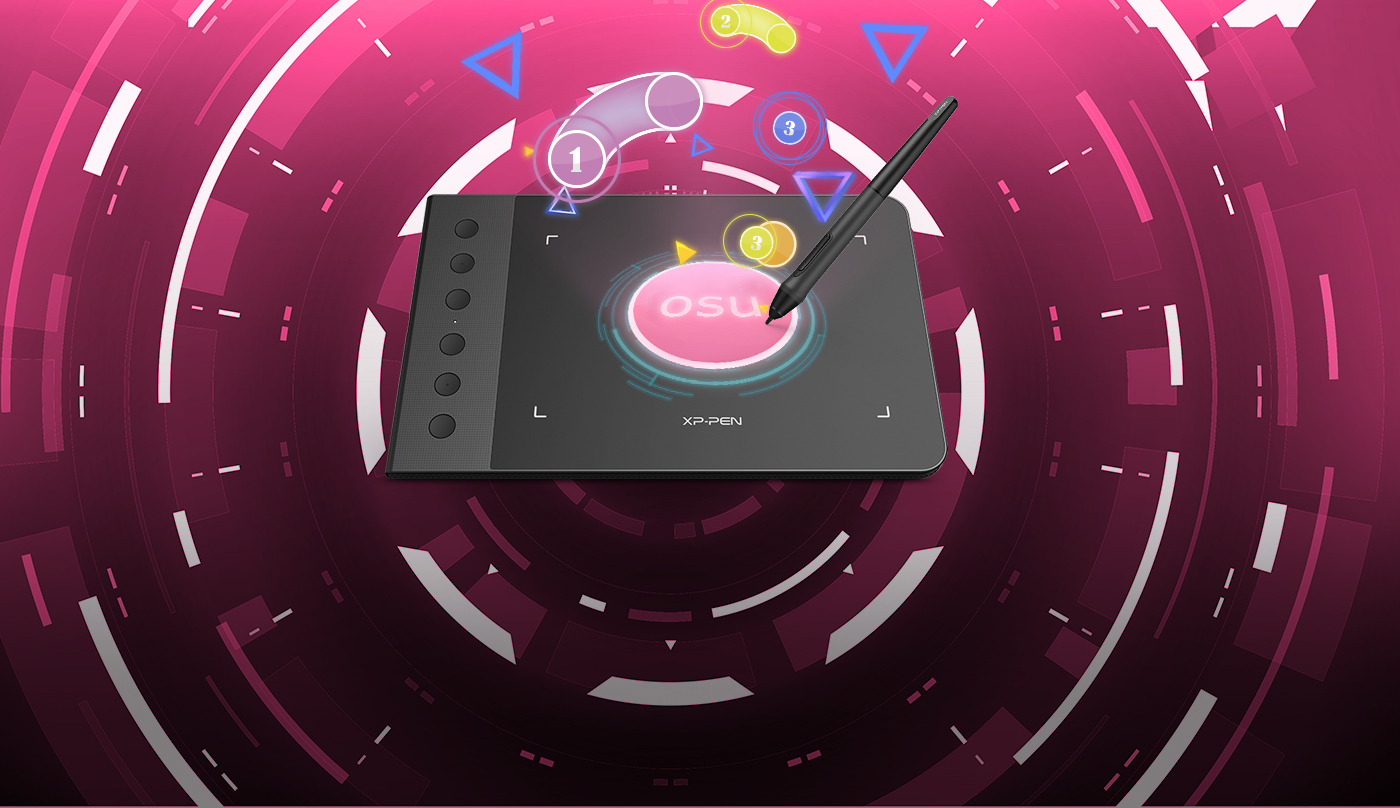 So should I buy the XP-Pen G640S Pen Tablet?
Yea, I could definitely recommend the XP-Pen G640S Signature Pad as a high quality entry level tablet. You may find it perfect as a mouse replacement, but the tiny active area leaves a lot to be desired. The strokes made by the XP-Pen G640S are very smooth, and the pressure levels allow for smooth gradient transitions from light to dark. But if you are well in the budget for it, I would also recommend the XP-Pen DECO 02 tablet over the G640S just for it's bigger active drawing area.
The new Star G640S 2018 are a good entry-level graphics tablets for those willing to get into digital art. The small model with no Bluetooth is particularly good if you want to have an affordable XP-Pen tablet, its price is a bit close in price to the alternatives (although it's smaller in size).
While the Star G640S are entry-level tablets, I dare say professionals could use them, as long as they don't need some of the features exclusive to the higher-end Wacom Intuos pro, like the large size, tilt sensitivity.
XP-Pen Star G640S official store : https://www.storexppen.com/buy/star-g640s-android.html
XP-Pen G640S Graphic Tablet Review : Design for OSU Signature signing
ultima modifica:
2018-08-27T08:23:00+02:00
da
Reposta per primo quest'articolo